Congratulations to new South Australian IJF Level 1 and 2 coaches

Hearty congratulations to SA Coaches who have just successfully completed the International Judo Federation (IJF) Coaching course conducted in Canberra at the AIS. This is now the second year that the IJF have offered to conduct the practical session in Australia with Stacey and James Bradbury successfully completing the Level one in 2016.
The results for 2017 are:
James Bradbury    Level 2
Nathan Freeman   Level 1
Mark Skanes          Level 1
Roman Zeitz          Level 1
Nathan, Roman, Mark Skanes and Jimmy Bradbury are pictures below with Daniel Lascau and Mark Huizinga. Daniel is a world champion from Romania and coached the UK judo team in 2012 London Olympics and Mark is a four times Olympian from the Netherlands who won gold and silver medals.
The other IJF coaches included Envic Galea and Piero Comino. Dr Tibor Kozsla was the organiser and arranged the 11 week preliminary theory course.
JudoSA would like to thank the JFA and IJF for hosting and sponsoring the course respectively. Please visit the JFA Facebook page for more pictures from the course.
'I cannot emphasise enough the effort and stamina that has been extended by each of these coaches in undertaking both the mandatory theoretical and 1 week practical. A superb accomplishment.' said Chris Hustig, the JudoSA Coaching Committee Chair.
'It would be really great to see more coaches from SA getting on board with this initiative.'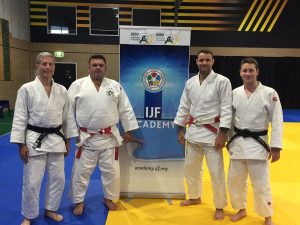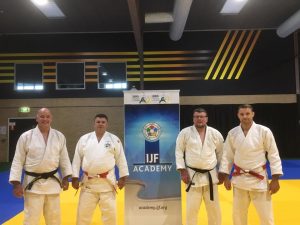 Updated: September 25, 2017