Whyalla Judo Club 50th Celebrations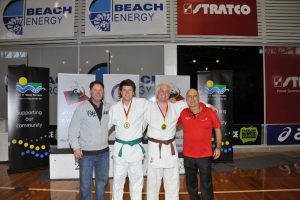 You many have already seen the Facebook posts regarding the Whyalla Judo Club 50th that is coming up on the 30th of September.
We are so excited about this day and have planned some activities to help celebrate this occasion, starting at 10 am with the Whyalla and Port Augusta clubs having a Randori Rumble with Trophy going to the winning club. We encourage all the children to participate in this and hope to make it a yearly event between the two clubs. All involved will receive a certificate of participation.
At 12.00 we will have a free sausage sizzle, jumpy castle, face painting, sumo suits for both ages and bubble balls. Later that night 7pm we will hold a dinner at the New Whyalla. For those who wish to join us in catching up with past members, and awarding the life memberships. The menu for the night and cost for meals is found on the New Whyalla website – http://www.newwhyallahotel.com.au/restaurant/.
If you can join us for this event or the dinner we would love to have you there to support us on this day, for those wanting to join us for the dinner please email or send a message to our facebook page letting us know the number of persons attending so that we can book seats / tables. It should be a great night and we have a special cake made for the day for everyone to enjoy after the meal.
We also have a book that has been developed that shows the history of the club over the 50th years that can be purchased.
Updated: September 14, 2017