2019 JudoSA State Titles Summary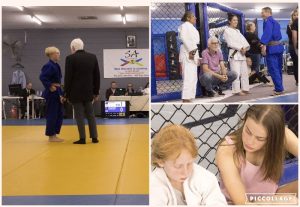 What an brilliant day of Judo, was great to see so many new faces competing, 98 Fights, 62 Competitors. 
Congratulations goes to all Judoka who competed in the 2019 State Titles and made it a brilliant event. Congratulations also goes to James Sprules from Kazoku Judokan winning the $100 for the Best Throw of the Day, Lachlan Rampage from SA Judo Academy who won the 2019 Best Player at State Titles Trophy.
A huge thank you to both Rory and Mika Dobbins along with their parents for entering on the day so Kayla Simes could compete. To SA Judo Academy your volunteer members made for a memorial day.
Please don't forget that the event was streamed on YouTube so if you missed the competition just check out JudoSA don't forget to like and subscribe to see more content. 
#TeamJudoSA on any photos or clips so we can collect your images for advertising or promoting Judo in South Australia.
Medals Winners Juniors

Medals Winners Senior Boys

Medal Winners Juniro and Senior Girls

Cadets with Lightwieght Seniors

Senior Players Middle to Heavy Weight Divs

Seniors working hard

Some amazing shots

Great holddowns or turnovers

Keep Going…… Almost there

Kids in action

Some hard calls made

Almost…….. Again

The Photos along with the crowd