State Team Appointments for 2022-2023
JudoSA are pleased to announce the following State Team appointments:
Deborah Brunet – State Team Manager for 2022-2023
Jim Bradbury – State Team Coach for all ages for 2022-2023
Deborah and Jim join existing team of Tony Barks and Graham Anderson.
Thank you to outgoing Team Manager Masa Motoyama for his contribution to the State Team.
Training times and selection criteria will be communicated soon. Click here to download the State Team Expression of Interest Form.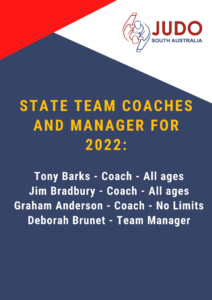 Updated: January 18, 2022