Olympic Champion coming to Adelaide in October…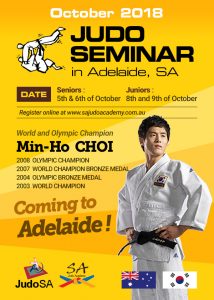 Steven Brown, sensei for SA Judo Academy has organised a Judo Seminar in October for Juniors (8th & 9th October) and Seniors (5th and 6th October) to be taught by Min-Ho CHOI, from Korea. This is a not-to-be-missed opportunity here in South Australia. The event is supported by JudoSA and we hope to see you there!
Please visit https://www.sajudoacademy.com.au/ for details and to register for the seminar.