Hannah's Judo Journey Has Been A Work In Progress
Hannah Bradbury returned from the recent 2021 Judo Australia Nationals carrying Gold and 2 Silver medals, from Cadet, Junior and Kyu Grade Women Divisions, but what steps has she taken to reach this point? We spoke with Hannah on her return and she helped us understand her Judo journey so far.
Hannah explains that she has grown up in a family environment where Judo has been prominent. She has early memories of watching from the mat's edge while family members trained and even sitting on her dad's back to add extra weight while he crawled across the mat as part of his fitness work! Hannah started on the mat at around 4 years of age, just having fun and playing games, although without realising it her skills were steadily developing.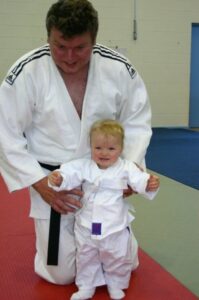 As Hannah has got older her interest in competition Judo has accelerated. She really enjoys the hard training and feeling of satisfaction that comes from getting through a difficult session. And while it can be daunting to start with, there is great satisfaction in competing and applying her skills in front of a crowd.
When asked about how she has continued to develop and improve her skills Hannah described a very detailed approach. She likes to break down a throw into its finer points and applies skill drills while working in cycles over a 3 to 4 month period. Naturally it's critical to commit to training and in the months leading up to Nationals, Hannah usually trains between 10-16 hours per week.
But life is not all about Judo and Hannah manages to keep things balanced. In addition to her Judo commitments, she is also very involved with a dance group, a choir and is currently completing Year 12 studies, as well as performing volunteer roles with her school. When asked about how she keeps all these balls juggling, Hannah said "I've found that to balance everything out, it's important, especially for school, to be able to use the free pockets of time."
Hannah explained that she has gained a lot from Judo, including being able to travel to other parts of the country for Judo competitions and camps and meeting, as well as training with, people from all over Australia. Most importantly, many friendships have formed through the connections made.
Her advice to other young judoka is "go and train at other clubs. It allows you to train with other people and try out the techniques that you've been working on outside of a competition setting. No matter where you visit, whether it's a more technical or a more competitive club, you can always get something out of the training. Keep working at your techniques and try not to get disheartened if you're not quite getting results yet. It only takes one thing to click for your techniques to start working."
Hannah is an excellent role model for other young judoka, particularly young women. We know Hannah's Judo journey is far from over and we are excited to see her next steps!