2019 SA International Open (SAIO)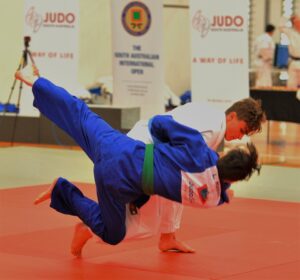 Congratulation goes to all of the Events Committee, Officials and Volunteers for a weekend packed full of Judo, first the AMG then our Biggest SAIO event in a very long time. You should all be proud of this achievement.
On Sunday morning we started with the Junior boys and girls, and Oh boy they didn't disappoint, showing hard work, with great determination, focus, and skill, all coming out on the mat to try their best or win the match. Sadly some fights were over in seconds while others went to time or on to golden score showing the spectators what their state and club is made of.
We went straight onto the Senior boys and girls divisions, with the Judoka succeeding with some stunning displays of strength, cunning, timing and confidence trying new moves learnt over recent months. These are the up and coming winners of years to come.
The Cadets, Junior men and women came along next with our NO LIMITS – Special Need Players, and wow over the last six months or so you can really tell these players are improving by showing the some most impressive ground work, their throws, transition work is really coming together. Keep going we were so proud of all of you.
Finally the Senior men and women – now here were some outstanding displays by experienced judoka, with players putting all of their skill learnt over the years to good use. There were also some orange and green kyu grades putting everything they had into their fights against more experienced opponents and sometimes, winning!
Thank you to all the clubs from SA and around Australia, who had players completing in this event, making it a brilliant event.
SA players and supporters were from Adelaide Aiki Judo, Whyalla Judo, Adelaide Uni Judo, Western Youth Judo, Elizabeth Special Needs Judo, UniSA Judo, Kazuko Judokan, Tiger Judo, Parafield Gardens Judo, SA Judo Academy, Platinum Judo, Kangaroo Judo, Gawler Judo and Goshin.
Interstate players came from Blacktown City Judo, Ni Bonchi, Beyond Grappling, Caulfield Judo, Preston-Eltham Judo, Taketani Academy, Budokan Judo, Uni NSW Judo, Sydney Uni Judo, Judokan, Kardinga Judo, Hawthorn & Lilydale Judo, Zenbo Judo, Senshi Academy, Uni WA Judo and Santos Academy. Thank you all for coming over and helping us make this a brilliant comp.
Most importantly, we'd like to acknowledge and thank the Sponsors and businesses helping with the event in any way. Along with the SA clubs which have already been named, Michael Stewart Electrical, City of Marion, Essimo Australia, Dojo Mats, Adelaide Advanced Physiotherapy, Signs on Para Salisbury without your support we couldn't have done it!
Download Results Pools sheets here…
link-template-judosa.php
Updated: October 31, 2019