2019 November Dan Grading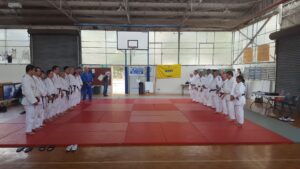 Congratulations to all the JudoSA candidates who presented for dan grade rank promotion this weekend! 10 members from four clubs completed their technical assessment at the grading on 30 November 2019 at Adelaide University Judo Club's Thebarton venue.
Mark Skanes, Kazoku Judokan to Sandan
Amy Trinh, UniSA Judo Club to Nidan
Adam Megson, Kazoku Judokan to Nidan
Roman Zeitz, Kangaroo Judo Club to Nidan
Richard Lewis, Adelaide Uni Judo Club to Shodan
Stephen Newman, Adelaide Uni Judo Club to Shodan
Bin Tranh, UniSA Judo Club to Shodan
Duy Nguyen, UniSA Judo Club to Shodan
James Sprules, Kazoku Judokan to Shodan
Shimin Ou, Kazoku Judo Club to Shodan
This was a large event, 2 full mat area were required for the kata presentations, with two assessment panels.
Many thanks to the members of the Grading Panels:
Michael Headland, Rokudan (Chair)
Dave MacDonald, Godan
Brenton Pring, Yondan
Meera Verma, Yondan
Harry Hustig, Sandan
Chris Hustig, Sandan
Tony Barks, Sandan
Masa Motoyama, Sandan
and to all the players who were Uke – no grading is possible without you!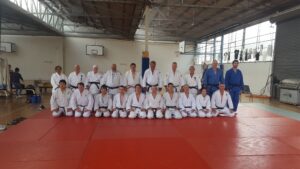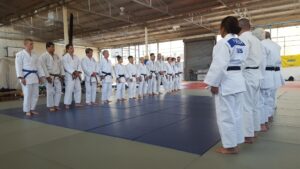 Updated: December 1, 2019