2019 Autumn Championships & MONster Judo League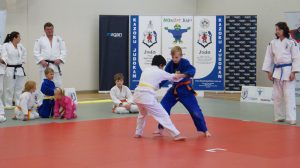 The first event for 2019 kicks-off at Kangaroo Judo Club on Saturday 16th March afternoon. Download the flyer for the Autumn Championships below, and nominations will open on-line on Tuesday 19th February:
and for the MONster Judo League and Kyu Capers here:
This year there are a few changes to the Nomination and Weigh-in procedures. Early nomination attracts a discount, and any nominations between the cut-off and the weigh-in on the day before the event, will incur a late fee.
All players are encouraged to weigh-in on the day prior to the event at the distributed venues offered, as adjustments can be made to pools. However, if weigh-in on the day of the competition is unavoidable, the player will require permission from the Competition Director and if the player weighs in over the threshold for that nominated weight category, they will not be allowed to compete. For Seniors, the player will still be entitled to compete in the Open if they wish.
Ganbatte kudasai!
Updated: February 17, 2019